This article will provide a online specification information of the Thrónos100t product. The data is compatible for the PCH-101BK, PCH-101BL, PCH-101RD and the PCH-YL.
The time has come to take your digital experience to a whole new level with this racing­inspired gaming chair. Ergonomically­shaped to offer the most exciting ride, this chair follows the natural contour of your body to provide unparalleled support during intense gaming sessions or long work days. A robust metal frame and rugged materials ensure stability and durability for years to come. And what´s more, amazing adjustability features for fine­tuning your strategy make the thrónos the perfect addition to a well­equipped arsenal.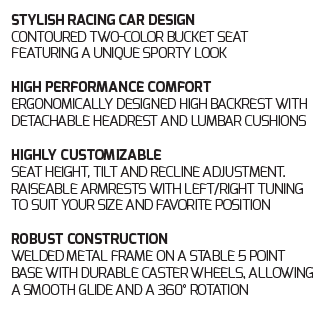 Below you will see the specs.